We're constantly on the hunt for examples of artistic decoration here at Pigmentti and it's a joy to champion our fellow practitioners – now and in the past – as a celebration of all things artistic decoration.
If you're not familiar with the term, you can find our full guide to trompe l'oeil already in our journal, but, for a quick round-up, trompe l'oeil is the use of paint to create an illusionary scene, landscape or architectural features in an interior or exterior scheme. The historic technique uses colour, shading and perspective to create realistic imagery giving the impression of classical proportion or architectural detail.
Trompe l'oeil examples – by Pigmentti
Keep on reading to discover 10 examples of trompe l'oeil, and the artists that inspire us to do what we do.
Perspective study for the illusionary fresco at the Church of St. Ignatius of Loyola by Andrea Pozzo
Andrea Pozzo painted the grandiose fresco that stretches across the nave ceiling of the Church of St. Ignatius of Loyola. The trompe l'oeil celebrates the work of Saint Ignatius and the Society of Jesus in the world. Pozzo worked to open up the surface of the nave's barrel vault illusionistically, arranging a perspectival projection to make an observer see a huge and lofty cupola, open to the bright sky, and filled with upward floating figures.
Trompe l'oeil examples – by Andrea Pozzo
Trompe l'oeil detail by Carolina D'Ayala Valva
Animals and nature are a popular choice for trompe l'oeil and Carolina d'Ayala has combined both here in this piece. Valva has worked for years specialising in painting Grotesque decoration and published a book "Art et Techniques de la Grotesque" in 2009 – a must-have book if you are a fan of grotesque paintings!
Trompe l'oeil examples – by Carolina D'Ayala Valva
Trompe l'oeil moulding detail by Alan Carroll
Trompe l'oeil plays with shadow and light to create the illusion of dimension and depth, making it perfect for taking walls from flat to features. Fellow Irish artist Alan Carroll has done exactly that with this moulding detail that brings the surface to life. Carroll's deft touch in particular with the technique of Grisaille is delightful. He has contributed to a chapter about highlights in a book by
Juliette Aristides Lessons in Classical Painting.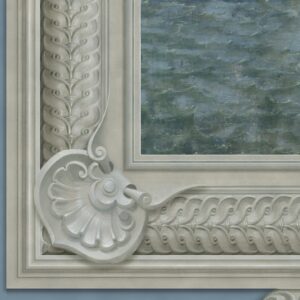 Trompe l'oeil examples – by Alan Carroll
Tented bedroom trompe l'oeil by Delphine Nény
This bedroom in Palazzo di Lorenzo Castelluccio is by French artist Delphine Nény is really quite the showstopper. Featured by Architectural Digest, the trompe l'oeil gives the effect of fabric hanging around the room, making the user immediately feel safe. The effect is extraordinary. Nény reinterprets antique decors for castles, private mansions, villas, apartments and more.
Trompe l'oeil examples – by Delphine Nény
Trompe l'oeil lattice in Annabel's Private Members Club by Gary Myatt
This stunning garden section by Gary Myatt was commissioned by Martin Brudnizki Design Studio for Annabel's Private Members Club in London. The trompe l'oeil features a lattice with rose surrounds, framing landscaped scenes with butterflies and a rabbit. Myatt paints figurative, painterly canvases and specializes in original, hand-painted murals and trompe l'oeil artwork.
Trompe l'oeil examples – by Gary Myatt 
Fairlawne House trompe l'oeil murals by Graham Redgrave-Rust
Trompe l'oeil has the ability to take viewers to another place and that is exactly what this mural by Graham Redgrave-Rust does. The scene makes out as if you can see through to a fountain-filled garden and idyllic landscapes. It's hard to tell what is real or not. Rust studied drawing and painting in London, at the Regent Street Polytechnic School of Art and then The National Academy of Art in New York.
Trompe l'oeil examples – by Graham Redgrave-Rust
West wall of Wimpole Hall Chapel painted by John Thornhill
John Thornhill's last major commission was to paint on the west wall of the Chapel designed by James Gibbs at Wimpole Hall, Cambridgeshire. He started work on the preliminary sketches in 1713 and the work was finished by 1724. The spectacular Baroque chapel features trompe l'oeil figures as well as hexagonal coffering. Thornhill was an English painter responsible for some large-scale schemes of murals, including the "Painted Hall" at the Royal Hospital in Greenwich and the dome of St Paul's Cathedral.
Trompe l'oeil examples – by John Thornhill
Contemporary trompe l'oeil artwork by Julien Gautier
Trompe l'oeil can be applied to furniture, paintings, walls, ceilings, set designs, building facades or decorative items and this ornamental piece by Julien Gautier is colourful and contemporary.  Gautier specialises in the creation of patterns and false materials personalised for new or old housing. Gautier specialises in using his decorative artisan techniques for the contemporary interior
design world. Gautier has recently published a book "Art of Decorative Painting' featuring the techniques and applications of today.
Trompe l'oeil examples – by Julien Gautier
Trompe l'oeil by Noemi Zavoli
We love the detail in this trompe l'oeil piece by artistic decorator Noemi Zavoli which features an acanthus and robin. The muted background brings the robin to the front of the mural as is often the case with the technique where cornucopias are filled with flowers, urns, masks and scrolls.
Trompe l'oeil examples – by Noemi Zavoli
Trompe l'oeil folded fabric designed by Kelly Wearstler
World-renowned interior designer Kelly Wearstler described trompe l'oeil as one of her" all-time favourite painting techniques", stating that she loved "exploring its many incarnations". This folded fabric trompe l'oeil was created from folding a large piece of canvas and painting it across a three-storey staircase to capture the dynamic of the folds. The result is an artful composition of line and space, creating a three-dimensional drama.
Trompe l'oeil examples – by Kelly Wearstler
Are you looking for trompe l'oeil in your interior? Contact us today for a consultation or for further information on how to incorporate trompe l'oeil, bas-relief, frescos, trompe l'oeil murals, gold leaf and verre églomisé into your designs.