Barbara Hepworth is arguably one of the most influential sculptors of the 20th century, and is another of our biggest sources of inspiration at Pigmentti. Over the course of her half-century long career, Hepworth's style evolved as she spent time travelling around Europe and the UK, seeking inspiration from fellow artists and the natural world as she went.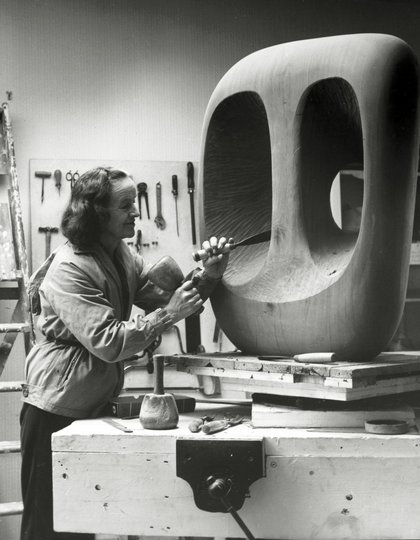 One constant, though, was her love of experimentation and interdependent relationships – between people and nature, tone and texture, and individual and collective. This month, we're considering aspects of Hepworth's legacy, her enduring impact on avant-garde sculpture, and the many ways that she influences our work as decorative artists.
How did Barbara Hepworth's early style develop?
You might recognise the Hepworth Wakefield as a prominent contemporary and modern art gallery in Yorkshire, UK. It's named after Barbara Hepworth because she was born there in 1903, and went on to study at Leeds School of Art and then the Royal College of Art in London alongside sculptor Henry Moore.
After graduating, Hepworth won a scholarship to travel around Italy – so she headed to Rome and learned to carve from a master artisan. There, she developed her take on an avant-garde technique called 'direct carving,' working directly onto the material rather than creating a preparatory model that's finished by a craftsperson.
Hepworth returned to London in 1926 and became a proponent of the technique, alongside Moore and others. In 1932, she married fellow artist Ben Nicholson and together they spent time travelling around Europe, where they met renowned artists including Piet Mondrian and Georges Braque. During this time, her works moved from the representational to the geometric, with works such as 'Pierced Hemisphere I' and 'Two Forms'.
Hepworth's rise to international acclaim
After moving back to St. Ives in 1939, Hepworth switched her focus to the human figure and its relationship to the natural landscape. But her career didn't really start its rapid growth until 1950, when she represented Britain at the Venice Biennale, and then at the Sao Paolo Biennale in 1959. One of our most-loved sculptures from this period is 'Archaean' (1959), which perfectly encapsulates the possibilities of rendering playful, organic form in bronze.
These achievements gave her the freedom to experiment with different forms of expression, in which materials played a significant role. She slowly transitioned from working in predominantly wood and stone, to carving in bronze. This, in turn, allowed her to create sculptures of great scale. These works are perhaps some of her best-known, and many are on show in the eponymous museum and sculpture garden in St. Ives.
Take for example Family of Man, pictured below, where it's clear to see both her geometric and organic influences converge in statuesque bronze form. To me, this work epitomises her interest in the human figure and its relation to the landscape, as well as their abstraction. She does, after all, note that she felt herself living in tension with the sea, the wind and the hills.
Hepworth was even more prolific later in life, when she took on a number of public commissions and enjoyed critical acclaim after 'Single Form' was commissioned for the United Nations in New York. During the 1960s, she created more works than she had in the entire period from 1925 to 1960. Her experiments with material expanded to include slate, and she often revisited themes and techniques from earlier sculptures.
Why is Barbara Hepworth influential to Pigmentti? 
Our enduring love for Barbara Hepworth stems from both her interest in relationality between elements of sculpture – organic and geometric, human and nature – and her willingness to keep experimenting. The fact that she constantly revisited past sculptural works and looked at them from a new perspective is equally something that we strive to do as decorative artists working with traditional techniques.
There's courage and integrity in knowing that your work as an artist is never really your own. Rather, it's part of a collective body of work that crosses generations and is always open to adaptation, yet remains an expression of the artist in a given moment. As Hepworth herself says, in a quote that always resonates with us: "The sculptor carves because he must. He needs the concrete form of stone and wood for the expression of his idea and experience, and when the idea forms the material is found at once."
Contact us today for a consultation or for further information on how to incorporate bas-relief sculpture and painted decoration into your designs.