We've spoken in-depth about how we use bas-relief sculpture in modern-day interior design, but we thought it could still be helpful to go into further detail on the materials we use for this timeless interior design technique. Depending on the style of design you require, there could be a different material that will work better for the project. First up we're exploring Scagliola – a malleable material that makes for very intricate design details.
What is Scagliola?
Pronounced "scal-yo-lah", Scagliola is a composite substance made from a mixture of plaster, glue and natural pigments such as gypsum and selenite. It originates from the Italian scaglia, aptly meaning "chips".
The material easily imitates marble or other decorative stone. It is pliable and may be veined with colours and applied to a core, or a desired pattern may be carved into a previously prepared Scagliola cast. The material's natural characteristics include veining, hairline cracks, and colour variations and these are an intrinsic part of the material's natural beauty, that only get better with age when cared for appropriately. Or so we believe here at Pigmentti.
Scagliola can be painted and gilded making it the perfect imitation for not only marble but also other precious materials such as ivory, porcelain, metals and techniques such as pietra dura. This combination of materials and technique provides a complex texture; a richer and more saturated than natural marbles if that is what the user desires. The flexible nature of Scagliola makes it perfect for bas-reliefs.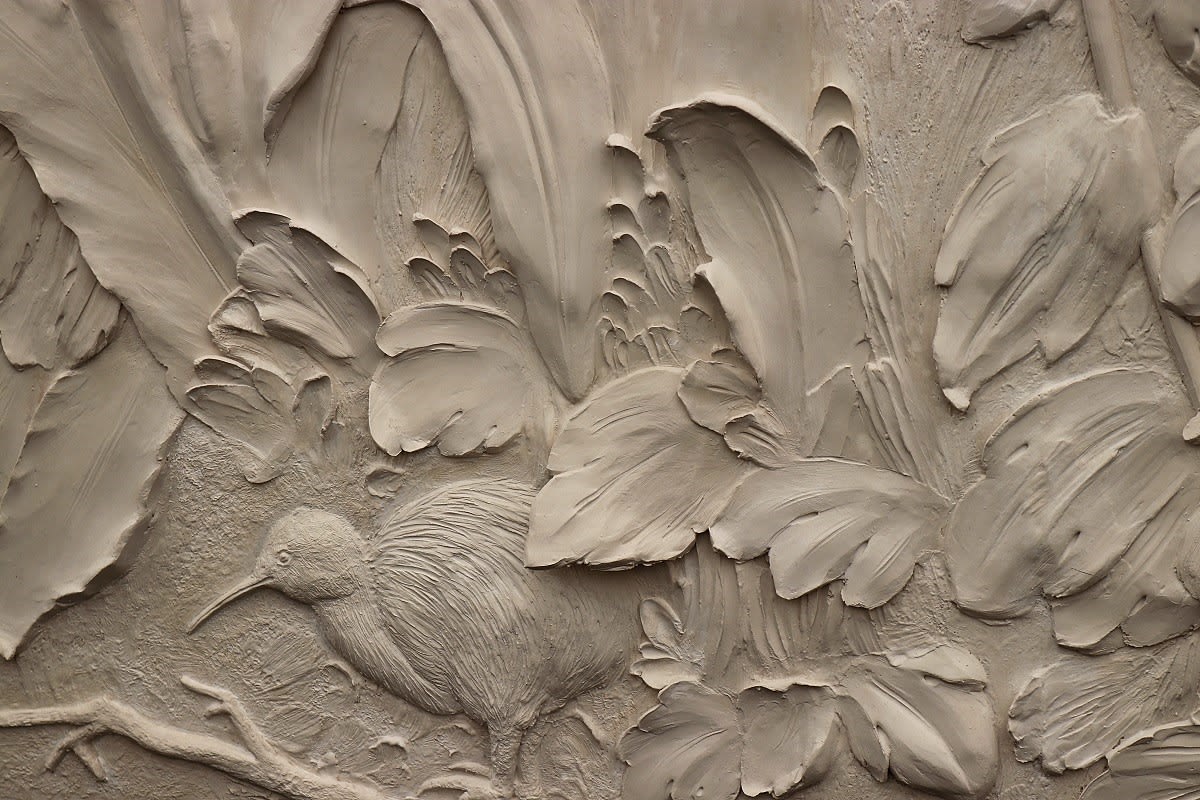 A Brief History of Scagliola
Scagliola was first described by Vitruvius in the first century BC, and its revival later came about in the Renaissance period, specifically in 17th-century Tuscany as an effective substitute for costly marble inlays.
The technique flourished in Europe thanks to the Baroque and Rococo periods where exotic marble and lavish stone inlays were popular in interior design and bas-reliefs were a common design addition. Scagliola was largely used in furniture where it was gilded with gold to create a luxurious finish. The material was first introduced to Britain during the 17th century.
It wasn't until the 19th century that the material became popular in the United States and in the latter stages of the century Marezzo Scagliola was developed. This advanced the traditional methods of making Scagliola by using Keene's cement instead of plaster, a gypsum-based cement patented in 1838. US buildings featuring scagliola include the Mississippi State Capitol in Mississippi, Allen County Courthouse in Indiana and Belcourt Castle in Rhode Island, The material's use was generally confined to public buildings, such as state capitols, courthouses, churches and railway stations.
Why Scagliola?
Scagliola is a very malleable material, as opposed to Marmorino, which we also use at Pigmentti. This malleable nature means you can create more intricate designs with it and it can be carved into as built upon as required in bas-reliefs.
You could compare the material to plaster of Paris, which is one ingredient instead of the concoction used to create Scagliola. Plaster of Paris does not give the same translucent effect and offer the same stone-like finish. Scagliola offers further strength and blends in with real stone. Artists from the Renaissance used it in moulds to produce 3D reliefs and decorative sculpture as well as wall and ceiling finishes. The strength and finishes of Scagliola are incomparable to other cheaper materials.
In terms of more expensive materials, marble is much harder to work with and less cost-effective. The difference between marble and Scagliola can be established by feeling the surface as Scagliola has greater thermal insulation than natural marble, meaning the marble will always be cold to touch. You can also typically notice hairline cracks in a Scagliola piece, which as we explained earlier adds to the effect over time.
How should I use Scagliola?
Scagliola can easily be used in modern interior design but is most suited to entryways and staircases – places you want to make a statement. It is not suitable for exterior walls or wet areas due to its sensitive nature. This is where Marmorino, which we also use at Pigmentti, is a great material to use instead for alternative conditions.
Most commonly, Scagliola is used as marbled stucco, to imitate bright and extensive marble surfaces, columns and other architectural elements. This makes it the perfect material for bas-relief. In history it has been used in bas-reliefs in both civic and religious buildings; a surviving example includes a fireplace in the Queen's Closet at Ham House, Surrey.
In modern interior design, scagliola is also a high-end favourite being used for vases, luxury chairs, staircases, columns, countertops and table tops. It creates an impact and gives off the same effect as marble. We have used Scagliola in a number of bas-relief projects for clients.
How should I care from my Scagliola bas-relief?
Scagliola is vulnerable to water. Gypsum returns back to its natural state when water is added. This means that water running over the surface will etch runs and pitting where the gypsum is washed out. Salt crystals can also form as the Scagliola dries and prolonged exposure to moisture will eventually destroy the material. Safe to say, it's best kept nice and dry.
To protect your Scagliola wall surfaces from scratching, staining and etching take note of these care instructions.
Scagliola is brittle. Keep debris or sharp objects away.
Wipe up away moisture immediately to prevent marking.
Avoid contact with any chemicals or acid-based cleaning products.
Clean with pH neutral products or those specially formulated for use on stone.
After a period of use, apply a penetrating sealer to prevent contaminants from being absorbed into the stone.
Renew the surface on polished Scagliola by buffing with high-quality Carnauba a based waxes or creams. Do not use aggregate based polish on Scagliola with a matte finish, which has been honed rather than polished.
As the skills required for the manufacture of Scagliola are now few and far between, it's always best to contact someone who does handle the material still. Inappropriate restoration can ruin a Scagliola piece and care needs to be taken to ensure that the material is looked after.
Contact us today for a consultation or for further information on how to incorporate bas-relief into your designs.