Something that we've long been an advocate for here at Pigmentti, is the power of the fifth wall, otherwise known in the interiors world as the ceiling. Ceiling decoration is not often considered in luxury interiors in the modern age, yet is still one of the first places people look when entering a room. From lighting to colour, to sculptural architectural details, there's always something you can do to make a statement.
This month we're exploring the role of ceiling decoration in history and how interior designers are using the fifth wall in modern residential and luxury hotel projects. Gather some inspiration and get in touch should you want further information on how to create an impact with your fifth wall.
The role of ceiling decoration in history
On the functional side of things, ceilings exist to cover the underside of a floor or roof and hide construction. In history, they have been a favourite as an area for decoration from painting and sculpture, through to emphasis on structure and a place for grand lighting.
From what we know of discovered architecture such as the Pompeian baths and even the domes of the Pantheon, Roman ceilings were rich with relief and painting. Illusionistic ceiling painting, a style of realistic painting, was all but common and effects were used to create the illusion of three-dimensional space on a mostly flat ceiling surface above the viewer.
During the Gothic period, it was more likely for structural elements to be used decoratively and the exposed beam was unearthed during this time. Beams and girders were often chamfered (cut away) and moulded before being painted in bright colours. The ceilings of this time were typically heavily arched to offer a sense of elegance. Malbork Castle in Poland is a great example of this.
Between the 14th and 17th, otherwise known as the Renaissance, ceiling design was developed to its highest standard of artistic expression. This was the true time of ceiling decoration with circular, square, octagonal and L-shaped decorative sunken panels. Edges were richly carved and decorated with rosettes. Blank space was filled with paintings. See the  Farnesina villa in Rome, decorated by Raphael and Giulio Romano for further inspiration.
Lastly, in less recent times, the Baroque period brought a new sense of ornate style with heavy bas-reliefs, cartouches and garlands used to decorate ceilings. The Pitti Palace and the Palace of Versailles are great examples of this as well as one of our own favourite places for inspiration, Villa Valmarana ai Nani – a Venetian villa located at the gates of the city of Vicenza with extraordinary frescoes painted by Giambattista Tiepolo and his son Giandomenico.
Ceiling decoration in the modern age
In modern architecture, ceilings became quite plain as standard with architects either opting for an exposed ceiling a la Frank Lloyd Wright or a plain suspended ceiling that was used to hide mechanical and electrical equipment. Coffered ceilings and beams are fairly popular but more commonly, the ceiling rose, a circular mounting on a ceiling, is often the only decorative feature of a room.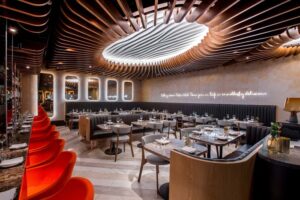 Why is ceiling decor back on trend?
As mentioned earlier, the ceiling is often something we overlook when it comes to decorating our home or other luxury interior design projects.
In the last few years, we've seen decoration of the fifth wall having a resurgence, albeit mostly in painting and wallpapering. Google and Pinterest searches have surged and once again people are looking for ways to be more ornate and detailed with their interior projects. It's all about being able to support the resurgence of craftsmanship and spark conversation with the narrative behind interior design.
How are luxury interior designers using the fifth wall to create luxury interiors?
The ceiling is a huge part of the overall impact on how you're going to feel in the space and though often under-appreciated as a decorative element, has the power to change the atmosphere of a room. Something as simple as a coat of paint or as structural as exposed beams can add big personality to any home.
At Pigmentti we believe there are a number of ways in which you can decorate your ceiling. There are a lot of different ways you can make it stand out and give the space a lot more character. Here are some examples of how we can assist with your luxury interior design project:
Bas-relief Sculpture
A bas-relief on your ceiling will add depth and interest to the room. The effect is created by sculpting onto a 2D plane to create and accentuate figures, patterns and objects. It creates a 3D appearance which can be viewed from all angles with little distortion making it a great effect for looking up!
Painted decoration and frescoes
As hand-painted decoration artists, we specialise in trompe l'oeil, ornamentation, grotesque, grisaille, murals and frescoes. A hand-painted ceiling will act as a conversation starter so is perfect for luxury homes or hotel design. If you want to create that wow factor, a painted ceiling is a great place to start.
Trompe L'oeil mural
Trompe l'oeil can give the impression of classical proportion and architectural detail which is perfect if the building you are working with is lacking in these original details. The technique uses colour, shading and perspective to form realistic imagery.
Gilding
Gold leaf gilding is brilliant for modern spaces, bringing to life elegant and considered decor, making it perfect for ceiling decoration. As specialists in luxury decoration, we regularly incorporate gold leaf and other precious metal leaves in our projects.
Contact us today for a consultation or for further information on ceiling design as well as how to incorporate bas-relief sculpture, frescos, murals, gold leaf and verre églomisé into your designs.