Artistic pools are all the proof we need that form and function can, and should, coexist. This month we're taking a look at some of our favourite luxury pools across the world – chosen for their artistry, materials and clever use of decorative techniques, from bas-relief to trompe l'oeil. Read on for our top 9 luxury pool designs across the world.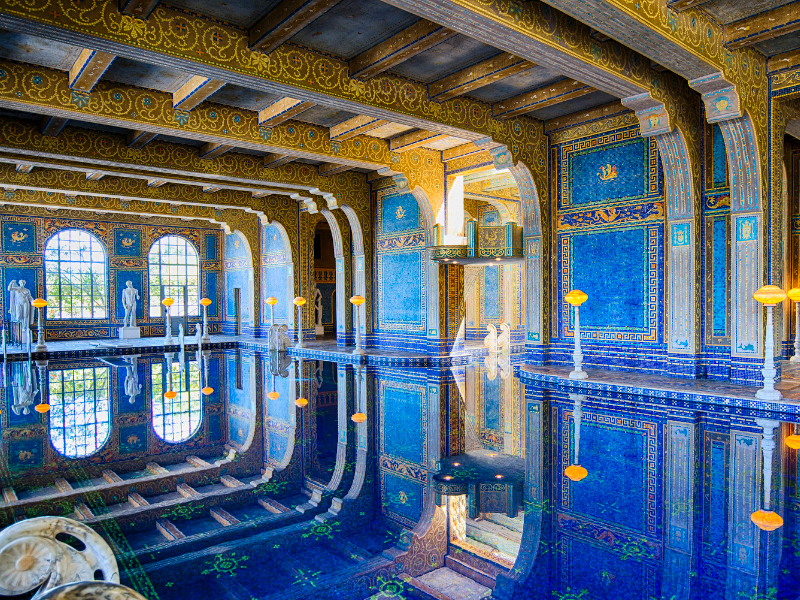 After his mother's death in 1919, William Randolph Hearst inherited thousands of acres around San Simeon, California. Alongside architect Julia Morgan, he conceived a retreat he called La Cuesta Encantada – Spanish for "Enchanted Hill" – within which you find this mesmeric, fully restored indoor pool. Our eyes immediately turned to the architectural detailing and archways reflected in the water, as well as the use of repetitive motif work on the ceiling beams using mosaics in vibrant azures and golds.
On the other end of the spectrum, there's the pared-back serenity of this luxury pool design achieved in collaboration with Etienne Moyat. The French artisans are known for pieces that reflect nature and this undulating, large-scale relief work is a case in point. Bathed in natural light, the curves and folds of the piece take on an almost mesmeric quality that captures the essence of minimalist grandeur.
Contrasting clean lines with the organic textural quality of sculpted bas-relief is what instills harmony and artistry in this luxury pool designed by Yodezeen Architects. If you look closely, the relief work depicts abstract human forms merging into an organic topography. To us, this is an example of the human forms often used in Renaissance narrative relief work given a 21st century twist. The focus on soft and abstract shapes and a neutral palette gives this space an inherent timelessness.
When we think of luxury pool designs, a classic that usually comes to mind is the CHI spa at the Shangri-La Hotel, Paris. It's an example of design decadence that never grows old. Here, bas-relief botanical panels sit behind polished marble columns to create the sense that you could be experiencing the spa at any moment in the past 200-or-so years.
Small and perfectly formed, we think the Hotel de Crillon in Paris is an example of contemporary bas-relief panel work used in an unusual and effective way. Abstract shapes are layered and contrasted from floor to ceiling and are complemented by gold and silver pigment, which in turn amplify the sense of luxury.
Would you believe this swimming pool is located in a hotel suite? It's a treat for people who stay in the Presidential Suite at the Hotel Principe di Savoia in Milan. The barrel ceiling is the ideal canvas for hand-painted fresco, too. This one uses the trickery of trompe l'oeil on the repetitive ceiling panels to add further depth of perspective.
Art Deco is the aesthetic thread running through the Ritz Club Paris and as far as luxury pool design goes, this one has been in our top 10 for years. Around 800,000 individual mosaics were hand-laid to create the masterpiece pool, while the neutral palette lets a series of hand-painted fresco panels do the talking.
Known for its cavernous, artistic pools with views out over the Mediterranean, we couldn't put together this list without including a Mykonos-based hotel. This is the Cave Pool Suite at Cavotagoo Mykonos, a luxury pool design that centres the raw natural rock that it's built around. What we love about these hotels is that the designers let natural materials do all the work, and it's a decision that always pays off.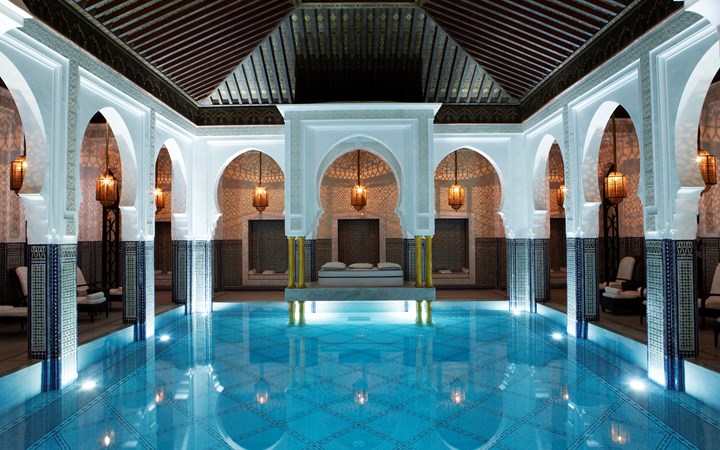 This luxury pool at La Mamounia hotel in Marrakech is often labelled as one of the most photogenic on the planet and it's easy to see why. Traditional Moroccan arches are inlaid with intricate architectural detailing and sit in contrast to the miniature mosaic columns, while the consistent contrast between light and dark draws the eye across the space.