In our opinion, when it comes to luxury interiors in both commercial and residential spaces, nothing says extravagance like statement art. Artwork has the ability to set the tone of a room and add that extra sense of grandeur and sumptuousness. It can tap into memories, evoke a mood and most importantly bring a sense of conversation.
Hanging art is one of the simplest ways to give your home or hotel project character but we believe that it's a common misconception that art must be placed in frames and hung as a gallery wall as standard. There are plenty more ways to incorporate works of art into your interior design scheme. In today's blog post, we explore five ways to incorporate statement art into luxury interiors with artistic effects from trompe l'oeil to ceiling decoration.
Create statement wall art with trained artistic decorators
While hanging framed artwork can indeed look beautiful, a huge decorative wall piece will open up a space and create a unique point of difference from standard interior design and architecture. Trompe l'oeil, a photorealistic technique stemming back to the late 1800s, creates the illusion of a real object or scene using colour, shading and perspective. The illusory effect is perfect for tricking guests into seeing a larger space or an alternative view while also showing off exquisite luxury taste.
For smaller pieces of work, you could also incorporate bas-reliefs into your design. This traditional technique involves sculpting onto a 2D plane to create and accentuate figures and objects. It's ideal for creating focal points within a room and can be used to enhance walls, ceilings, domes and doorways – don't limit your statement art to the mid-points of walls only!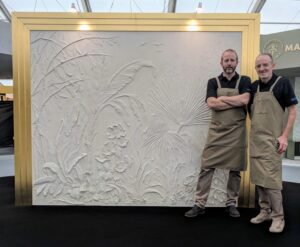 Think about sculptures
Sculptures are luxury decor pieces that can amplify the look and feel of a room to a magnified level of opulence. These statement pieces are an ideal way to add art to consoles or furniture pieces without taking over a huge surface area.
Consider collectable design & furniture
Just like sculpture, works of art needn't be limited to two-dimensional pieces. Think outside the box and look out for furniture with artistic decoration incorporated into the design. Art Nouveau and Art Deco pieces can easily be sought out in the right vintage shops or you could commission your own piece. We love this room divider/screen recently featured on our Instagram account; the bas-relief adds interest to the luxury decor but remains contemporary.
If you're looking for a more glamorous touch, you could also incorporate gold leaf gilding into your furniture or bas-relief. Gold leaf can be applied onto glass, objets d'art, inlays and furniture as well as architectural details in luxury properties.
Take it to the ceiling
Ceiling decoration is fast becoming a popular artistic feature and as one of the first places people look when entering a room, it's a great way to make a statement. There are a number of ways to incorporate your art in your ceiling. A bas-relief on your ceiling will add depth and interest to the room while a hand-painted ceiling will act as a conversation starter so is perfect for luxury homes or hotel design. At Pigmentti, as big fans of looking up, we specialise in trompe l'oeil, ornamentation, grotesque, grisaille, murals and frescoes so do get in touch if you'd like to create something a little different in your home.
Make an entrance
Alongside the ceiling, the entranceway of your home or the lobby of a hotel is your guests' first impression of a space. Incorporating striking lighting or decadent features will have their jaws dropping from the offset. We love this statement lighting feature in Laura Hammett Interiors project which makes full use of architectural gold lighting. Similar concepts for your own luxury residence could include a gilded sculptural feature or bas-relief effects.
Contact us today for a consultation or for further information on how to incorporate bas-relief, trompe l'oeil murals, frescos, gold leaf and verre églomisé into your designs.