Decorex International is the high-end interior design show of the year in the UK – it brings together world-class designers with the brands, artisans and products that separate the ordinary from the exceptional. If you were at Decorex last year, you might have spotted Pigmentti as we hosted our four-day live bas-relief demonstration using marmorino and gold-leaf.
We're thrilled to announce that we're returning for Decorex 2019 to collaborate with a luxury interior design studio, as part of an exciting new feature: Design Encounter.
Decorex 2019, Design Encounter – The Concept
Design Encounter is a pop-up house featuring six rooms that will each be created by a different interior design studio, and curated by the architect John Allsopp. In even more exciting news, London-based These White Walls – the studio behind Hide restaurant on Piccadilly – has decided to collaborate with Pigmentti to create a 'Withdrawing Room', a room that will fuse innovative technology with tradition.
Rose Murray, the founder of These White Walls, will deck out the House at Decorex 2019 alongside Natalia Miyar Atelier, Run for the Hills, Sella Concept, Samantha Todhunter Design, and Zachary Pulman Design Studio. It will take the traditional room set to the 'next level' by weaving together digital elements and physical experience, and visitors will be able to view the digital projections through their phones.
The Withdrawing Room at Decorex 2019
Escaping the outside world and gathering in conversation are central to Rose's design concept for the 'Withdrawing Room'. To bring it to life, she will blend classic design features – such as a feature fireplace and over-the-mantlepiece ornamentation – with a decorative, dramatic installation that disrupts tradition. This is where Pigmentti comes in.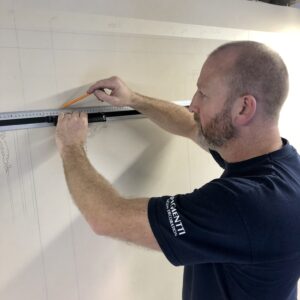 The Withdrawing Room – The Design
We spent a lot of time chatting to Rose and exploring ideas about how the traditional techniques we use at Pigmentti could complement her 'Withdrawing Room' concept at Decorex 2019. While you'll have to head down to the show to see the finished creation, we thought we'd share with you a bit more about Pigmentti's role in the pop-up room.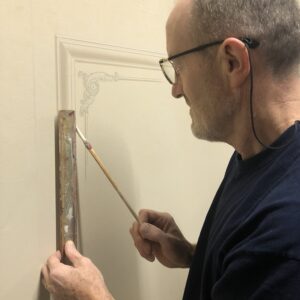 The walls of the 'Withdrawing Room' will be lined with canvases, which will be decorated with the suggestion of a trompe l'oeil panelled room – crafted and applied by us. We've explained in a previous blog post exactly how trompe l'oeil works, and why it's is perfectly suited to the kind of detailed work that Rose has in mind for this feature room.
These trompe l'oeil moldings will be left half-finished and window dressings will be half-applied, both complementing Rose's desire to create an 'emergent' interior.
A large mangled chandelier, designed by Cameron Design House, will take centre stage. A flock of birds, crafted from scagliola, will have peeled out of the trompe l'oeil canvas to be suspended in a swirl overhead. If it all sounds a bit magical and surreal, well… you can expect it to be even more so when you step inside.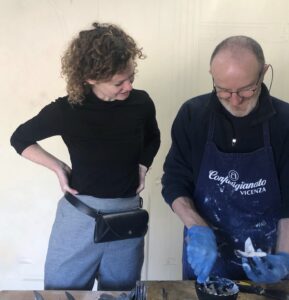 At Pigmentti, our work is all about both reviving traditional artisanal techniques and bringing them into the contemporary world. So it's incredible for us to have the chance to collaborate with Rose on a project that places bas-relief scagliola, sculpture and trompe l'oeil – techniques with their roots in Ancient Rome – alongside cutting-edge technology. It's the ultimate traditional-meets-contemporary collaboration, in our opinion.
Talking of technology, it probably won't be news to you that digital developments are weaving their way further and further into our everyday lives. Or that modern luxury design trends are constantly changing. Rose's 'Withdrawing Room' concept is a brilliant lesson in how artisanal technique can work in harmony with technology and contemporary design, to create completely original spaces that tell a story.
We love the fact that visitors will be able to use their phones to overlay their own style onto the room – a great personal touch.
Applied art is amplified in Rose's room, and the digital aspect is used to enhance the space rather than overpower it. In a world that's always switched on, the 'Withdrawing Room' will be a place for people to tune out all of the external noise.
About These White Walls
Rose founded These White Walls back in 2017, after years spent working as a scenographer, stylist and designer. The studio's ethos is in its name: each project takes a blank canvas approach to creativity, so that each interior emerges as unique. It's an ethos and approach that we can relate to – as you may already know, at Pigmentti we focus on realising the clients' vision and creating something personal and original.
We're exceptionally proud to be working with These White Walls and can't wait to see Rose's finished concept in Design Encounter.
What else to see at Decorex 2019
This is also set to be a huge year for Decorex: for one, it's returning to Olympia London after spending the past four years at Syon Park. There's also a packed-out talks programme covering a wider range of topics than in previous years, including sessions like 'How Art is Shaping Today's Interiors' and 'Commissioning Bespoke Items'. We're also looking forward to getting inspired by the one-off arts and crafts creations in the Future Heritage exhibition.
As well as giving us the chance to glimpse newly launched collections and chat to world-renowned interior designers, Decorex is above all one of the best ways to assess the direction of the industry and meet the people leading the way. We'd love to see you at Decorex 2019!
P.S. Watch out for next month's blog post, where we will be speaking to Rose about the artisan-designer collaborations, designing in the digital world, and lots more.