This month we're taking a look at one of our favourite materials in the artistic decoration world: gold leaf. As specialists in luxury decoration, we regularly incorporate gold leaf and other precious metal leaves into our projects and we think a spotlight on this intricate material is deserved. Find out more about the history of gold leaf, its uses in the modern world and why you should incorporate it into your luxury interior design projects today.
What is gold leaf?
Gold leaf is gold that has been hammered into thin sheets by "goldbeating" – the process of hammering the gold into an extremely thin unbroken sheet. It is primarily used for gilding and is available in a wide variety of karats and tones which vary from yellow to silver. Famous for being both indestructible and malleable, its craft dates back from ancient times and it can be applied to almost any surface, producing a warm glow on objects, architecture and sculptures. The most commonly used gold leaf that you will have seen is made from 22-karat yellow gold and here at Pigmentti, we use only the finest Italian suppliers of gold leaf: Manetti.
A brief history of gold leaf
The first evidence of human interaction with gold was the Egyptians in around 3,000 B.C. Gold was considered the colour of the gods and the pharaohs and was even referred to as "the skin of gods". The fine material was used to decorate the luxury rooms of the Pharaoh and served a myriad of purposes, but was predominantly used to showcase wealth and power via interior decoration or jewellery.
The techniques used are not as well documented thanks to the looting of Egyptian sites but Deborah Schorsch of the Department of Objects Conservation, The Metropolitan Museum of Art states that 'gold leaf as thin as one micron was produced even in ancient times, and thicker foils or sheets were applied mechanically or with an adhesive to impart a golden surface to a broad range of other materials.'
One of the earliest examples of gold application that lives on is the Basilica di Santa Maria Maggiore in Rome. Gold became an integral component of Byzantine and Roman churches and basilicas in 400 AD, and the mosaics in this instance were made of stone, tile or glass-backed on gold leaf walls.
Between the 11th to 13th centuries in Venice, craftsman began to play with the precious material. The "Sculoe", a craftsmen's corporations, was one first places to "beat" gold and turn it into the finest sheets of gold leaves. This was achieved by inserting a gold ribbon between two layers of animal skin, and beating it to create leaves as thin as a veil.
In ancient Greece, the most famous statues which utilised gold leaf were the chryselephantine statues which combined the luxury materials of gold leaf and ivory. Bare parts of the statue were made of ivory to reflect skin, while the robes and accessories were covered with gold leaf.
The material was also popular in sacred paintings and often the sky was made using gold leaf. This was known as "gold-ground" painting and was first known in Italy followed by the Byzantine
Empire and other European countries. If other godly or sacred figures were present, gold leaf was often used to distinguish them from others in the work.
During the 1800s, gold leaf had a resurgence in popularity and became sought after for use in art, sculpture, architecture and interior decoration. Today, gold leaf gilding is one of the most treasurable and richest crafts techniques. The ornamental decoration process is still seen as a sign of luxury and quality for use in projects that are designed to create impact; not limited to statues, luxury furniture or even frames.
How is gold leaf created?
The gold is firstly heated up at 1000°C, bringing it to a liquid state that can be poured into a gold bar. "Lamination" then occurs where the bar is then flattened and turned into a thin foil. Each strip is then carefully placed between the pages of a book before being beaten with short and precise blows at different points. The leaves created are as thin as 0.3 to 0.4 microns (an improvement from those found in Egyptian times). They are then hand-cut for use.
What techniques are there for gold leaf?
Creating gold leaf is a time consuming and very detailed process and there are a number of techniques to work with the material. Look out for terms such as gilding, engraving oil gilding, water gilding, engraving, etching, polishing and verre églomisé. Each one takes know-how, patience and precision to get the desired finished result.
We're going to take a look at traditional water gilding, one of the most difficult ways to work with gold but the technique remains unchanged for hundreds of years.
Before engraving or polishing gold leaf, at Pigmentti, we prepare the work with 16 layers of Gesso Bologna, eight layers of bole before finally water gilding. Water gilding is used to achieve a mirror finish on glass, but is also used on bole (clay) which means it can be used in interior architecture. Loose sheets of gold are layered on the bole which supplies a flexible surface. Once water gilding has taken place the process of engraving or polishing the gold begins. The bole allows for polishing the gold and gives it a red reflection thanks to the transparent nature of the leaf.
How is gold leaf used in luxury interior design?
Gold leaf can be applied on ceilings, walls, canvas, bas-relief sculpture, various decorative architectural embellishments, glass, objets d'art, inlays and furniture. Each creation is unique and distinct thanks to the craftsmanship and skill that goes into creating it. The use of gold leaf in luxury and contemporary interior design is still prominent. Architectural details can be elevated with gold leaf, evoking opulence and highlighting forgotten areas. Gold leaf gilding is brilliant for modern spaces, again bringing to life elegant and considered decor.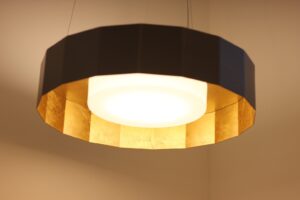 Why should luxury interior designers use gold leaf?
If you're looking to make a mark in the world of luxury design, gold leaf is a fail-safe material that is sure to make an impact. The material is available in a wide variety of karats and tones to suit any interior style and different techniques can also be used to create alternative effects.
At Pigmentti, we describe gold leaf as jewellery for the interiors; it's that little thing that will give somewhere more personality and substance. While it's not a quick or inexpensive route, the texture, depth and richness that layers of gold leaf will add to a project are truly worthy.
Pigmentti is a multi-skilled decorative artist studio specialising in bas-relief sculpture, trompe l'oeil murals, painted decoration, gilding and gold leaf.
Contact us today for a consultation or for further information on how to incorporate gold leaf into your designs.